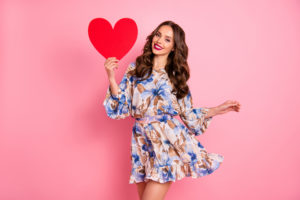 With Valentine's Day right around the corner, love is in the air! While many couples are planning romantic dates, it is important to take the time to practice self-care and show your smile some love as well. Taking care of your teeth and gums will not only benefit your oral health, but it could boost your love life too! Indeed, in a poll of 5,000 men and women conducted by online dating service Match.com, a beautiful smile was ranked the number one most attractive quality. Need some help getting started? Here are some tips from a dentist on how to treat your smile with love this Valentine's Day.
Practice Excellent Oral Hygiene at Home
An attractive smile begins right at home. Follow these simple guidelines to keep your teeth healthy and clean:
Don't Rush – Brush your teeth twice a day for two full minutes each time. Set an alarm on your phone if you have trouble keeping track of the seconds!
Use Short Strokes – Hold your toothbrush at a 45-degree angle to your teeth and brush using small, tight circles.
Brush All Sides – Don't just brush the side of your teeth that are visible in the mirror. Spend at least 30 seconds brushing the inner, outer and chewing surfaces of your teeth.
Apply Correct Pressure – If you are crushing the bristles of your toothbrush when brushing, that is a sign you are applying too much pressure. To avoid damaging your gums, brush firmly but not aggressively.
Why You Should Visit an Orthodontist
Even if you practice excellent oral hygiene at home, you may be at greater risk of developing tooth decay and gum disease if you do not have a straight smile. This is because it is often more difficult to thoroughly clean hard-to-reach places that exist if you have crooked or crowded teeth.
If your teeth are poorly aligned, you should not hesitate to schedule a visit to an orthodontist. Quality orthodontic treatment can correct bite problems, reduce the risk of broken to chipped teeth, prevent loss of bone and gum tissue, and much more.
Of course, many people find straight teeth to be an attractive quality in others, so visiting an orthodontist may even eventually help you score a Valentine's Day date!
How to Subtly Straighten Teeth
Want to straighten your teeth but cannot imagine having to wear metal braces? Thankfully, you do not have to!
Invisalign clear braces are a modern alternative to traditional orthodontics that can subtly straighten your teeth without compromising your professional appearance. Instead of metal brackets and wires, Invisalign treatment uses a series of transparent, plastic aligners to gradually move misaligned teeth into the desired position.
Hoping to be struck by Cupid's arrow this February? Celebrate this and every Valentine's day with a healthy, straight smile by following the tips above and visiting an orthodontist near you.  
About the Author
Dr. James Hart has over 40 years of experience helping men and women achieve straighter, more attractive smiles with orthodontics. Since graduating in the top 10% of his class at Baylor College of Dentistry, Dr. Hart has consistently taken continuing education classes in order to stay at the cutting edge of his field. Patients ready to love their smile more should visit the Hart Orthodontics website or call 817-645-2432.