Cleburne Invisalign® Clear Braces
Straighter Teeth with No Metal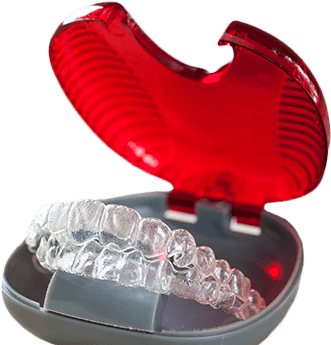 Have you wanted to straighten your smile for years but haven't because you didn't want to get metal braces? Many of our adult patients feel this way because they don't want to compromise their professional appearance, and for them, we're happy to offer Invisalign. With Invisalign, Dr. James Hart can give you the straighter smile you've always wanted without any noticeable brackets or wires.
How Does Invisalign Work?
Invisalign uses a series of custom-made aligner trays to straighten the teeth. They'll be designed to fit your smile by Dr. Hart, and you'll simply need to wear each individual set of trays (one for the top and bottom teeth) to gradually transform your smile. You'll be instructed to wear one set for about 2 weeks for 22 hours a day before progressing onto the next one. After you have gone through the entire series, your smile should be completely straight. It's just that simple!
Invisalign vs. Metal Braces
More and more patients are choosing to straighten their smile with Invisalign because it offers a number of unique benefits compared to traditional metal braces:
Discreet Appearance: The trays are practically invisible when worn on the teeth, making Invisalign one of the most subtle orthodontic treatments in the world.
Comfort: The smooth plastic will be specially shaped to fit your teeth and keep you nice and comfortable throughout your treatment.
Convenience: You can simply take the trays off whenever you need to eat or brush your teeth, allowing you to maintain your normal diet and oral hygiene habits while improving your smile.
Is Invisalign Right for Me?
This is a decision best left up to you and Dr. Hart. After a thorough examination, he'll let you know if Invisalign is right for your smile or not. If it is, then he can begin treatment almost immediately, and in just a matter of time, you'll be seeing a beautifully straight smile in the mirror.
iTero Scanner Integration with Invisalign®
In order for your Invisalign trays to have the appropriate fit, we'll need to take a dental impression. In the past, this usually meant we had to fill your mouth with a gooey, odd-tasting impression material, but now, thanks to our iTero Digital Scanner, we can take care of the entire process digitally. This small device will capture and use dozens of unique images of your teeth to "stitch" together a fully 3D model of your bite. This approach is faster, more comfortable, plus it yields a much more accurate impression, ensuring the success of your Invisalign treatment.
Understanding the Cost of Invisalign
During your complimentary Invisalign consultation, you'll probably have a lot of questions. One of foremost on your mind is likely to be, "How much will Invisalign cost?" The answer to this question isn't a fixed number; it's different for every patient and is determined by a few different factors. Our team can give you an estimate after we've examined your mouth and determined what changes are needed. After a number has been arrived at, we can discuss options for making the treatment as affordable as possible.
Factors that Affect the Cost of Invisalign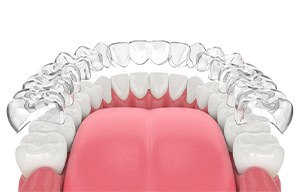 Here are some of the variables that can change the amount you pay for an Invisalign treatment:
Number of Aligners Needed: More complex cases will require more aligners to make the desired changes. Obviously, the cost will be higher if more aligners are used.
Number of Arches Being Corrected: Not everyone needs aligners for both arches, but if you do, you can expect the cost to be higher than it would be if you were only straightening one row of teeth.
Compliance: Since Invisalign aligners are removable, patient compliance becomes a significant factor in its success. If you don't wear your aligners as often as you need to, it could end up increasing the overall cost of your treatment. Also, you'll need to pay to replace any aligners that you lose.
Extra Accessories: Elastics or other accessories may be needed to make certain changes. We'll make sure your aware of these additional accessories ahead of time.
Invisalign vs. Smile Direct Club™: Which Costs More?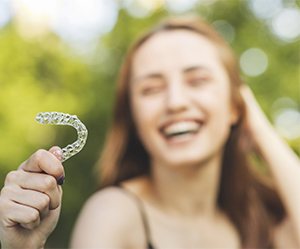 DIY clear aligners such as the Smile Direct Club™ have become more popular in recent years. On the surface, they may appear to be less costly than Invisalign, and the promised convenience of having the treatment done entirely at home can be tempting. However, it's important to note that DIY aligners are made out of much cheaper material than Invisalign, meaning they aren't as comfortable or as efficient at moving the teeth. Also, because DIY aligners lack professional oversight, they have been known to make dental alignment problems worse, and in some cases, they can even result in problems that take thousands of dollars to fix. Invisalign, on the other hand, provides you with the personalized support of your dental team throughout the entire process to help you attain the best possible outcome.
Does Dental Insurance Cover Invisalign?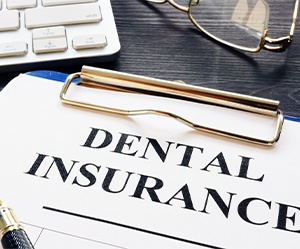 Not all dental insurance policies include a provision for orthodontic treatment, but those that do usually include Invisalign, and they can reduce your out-of-pocket costs by a substantial amount. The insurance experts on our team can help you understand the details of your coverage and go over how you can use it to your advantage.
Options for Making Invisalign Affordable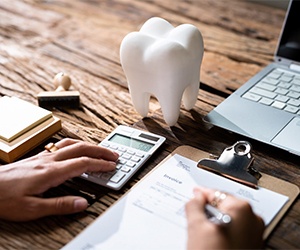 We accept all kinds of dental insurance plans, but if you don't have a policy, you can apply for financing with OrthoFi or CareCredit. You can then pay the cost of your treatment in monthly installments with little to no interest, and there will be no upfront costs or annual fees to worry about. Feel free to ask our team about these payment options during your consultation.
Invisalign FAQs
If you're unhappy with the alignment of your smile, Invisalign may be the answer for you. However, it pays to be well-informed before committing to the treatment. Here are the answers to some of the most common questions we receive able to Invisalign in Cleburne. If you don't see the information that you're looking for below, just give us a call . We'd be more than happy to answer any of your questions and get you started with an initial consultation with Dr. Hart.
What Does Invisalign Look Like?
Invisalign is designed with clear plastic, so they are visible when outside the mouth, but very difficult to detect when they are being worn. With proper maintenance, patients are able to keep their aligners clean, clear, and discreet. While there are no metal wires or brackets involved, in some cases, patients need attachments for their Invisalign treatment, like buttons or elastics. These items aren't made of clear plastic, so they are sometimes more visible than the rest of the aligners.
Does Invisalign Hurt?
Invisalign is not a painful treatment. Thanks to its smooth plastic design, it is one of the most comfortable orthodontic treatments out there. When you first get Invisalign, there is an adjustment period where you may experience slight soreness, but this will go away as you get used to your treatment. Each time you switch to a new set of aligners, you will likely feel a small amount of pressure, but this just means that the treatment is working! To help with the adjustment, try taking over-the-counter pain relievers or using a cold compress.
Can You Eat with Invisalign?
One of the greatest advantages of Invisalign is that they are completely removable, so you can take your aligners out when it comes time to eat. Eating with your Invisalign can damage your aligners, causing cracks and stains, and this puts unnecessary pressure on your teeth. The only thing that you should be consuming while wearing your aligners is water. Otherwise, you should take your aligners out and keep them in a safe place.
Who is Not Eligible for Invisalign?
In most cases, Invisalign can be used for any patient who has their full, permanent set of teeth. This means that teens can enjoy the benefits of Invisalign at as young as 13 years old. However, there are a few exceptions. In some cases, bite misalignment is too severe to be corrected with clear aligners alone, making traditional braces necessary. Patients who smoke are also sometimes poor candidates for Invisalign, as smoke and tobacco stain the aligners and increases the risk of oral health issues. Lastly, Invisalign often isn't the right option for patients with extra small, misshapen, or eroded teeth. It will be determined if you make a good candidate for Invisalign during your initial consultation.