Braces with Missing Teeth – Cleburne, TX
Repairing Gapped Smiles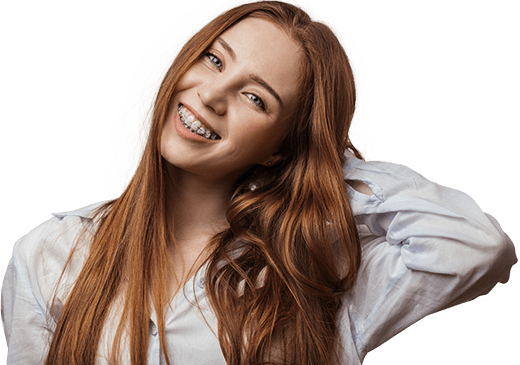 Are you suffering from an incomplete smile due to missing teeth? Are the gaps in your smile causing your other natural teeth to shift out of alignment? If so, it may be necessary for you to seek orthodontic treatment. But what about your missing teeth? At Hart Orthodontics, we can work to place you in braces while addressing the vacated sockets in your mouth. Patients who have lost teeth to a birth defect, poor oral hygiene, or gum disease still have a way to repair and restore their smiles thanks to Dr. Hart. To learn more or to schedule an appointment, contact our office today!
Can You Wear Braces with Missing Teeth?
It may seem hard to believe that braces can be an effective way to repair your smile when teeth are missing, but it is true! If you have crowded teeth, your orthodontist will most likely recommend braces, especially if there are any additional teeth that need to be extracted. This will open up room for your teeth to move into proper alignment.
Depending on how many teeth are missing, it may be necessary to have additional appliances placed in your mouth (i.e. bridge, dental implants). This will help to fill in any gaps.
It is important to have your missing teeth treated in a timely manner. The longer you wait, the likeliness that your natural teeth will shift and cause problems with your bite will increase. You can have potential wear and tear on your teeth as a result, leading to necessary tooth extraction if left untreated.
Why Do People Have Missing Teeth?
There are numerous reasons why someone would have missing teeth. Some of these include:
Adult teeth never erupted
Trauma to your jaw or tooth
Severe tooth decay
Infection (i.e. periodontal disease)
Lifestyle habits (i.e. smoking, chewing tobacco)
Poor oral hygiene
How Can Braces Help Repair Your Smile?
Both teenagers and adults can wear braces while having missing teeth. Teenagers who have adult teeth that never erupted through the gums but have a misaligned jaw are ideal candidates, as are younger children who may still have some baby teeth falling out. When placing the brackets and wires, your orthodontist will be mindful as to how they handle the loose tooth, ensuring that the bracket is removed to allow the tooth to fall out before replacing the bracket once the adult tooth erupts through the gum line.
Even though teeth may be currently missing, wearing braces now can correct issues that can come about as a result of missing teeth.
If you're wondering how your teeth will move with braces and how it will affect the gapped areas of your smile, the way it works is they will gently move your teeth through the jaw and into the correct location. Since your jaw is not the solid piece of bone you might believe it to be, it is actually made in a way to hold your teeth in place while allowing them to move when necessary. In fact, while Dr. Hart is reviewing your x-rays, he will be able to determine whether the adult tooth is having difficulty dropping into place or if they're actually missing. If it's the former, braces will help to pull the tooth into proper alignment with the rest of your teeth.
By wearing braces, your teeth will become stabilized, protecting the areas where missing teeth exist. Once your braces are removed, a dental implant or bridge may be placed to restore the complete look of your smile.
If traditional braces aren't exactly what you hoped to have when learning you need orthodontic treatment, you'll be happy to know you can still achieve a straighter smile with clear aligners. Where the two differ is that your custom trays can be made to have a temporary tooth build in, so as your teeth move and adjust, there is a tooth serving as a "fill in."
It's important to remember that Invisalign aligners might not always offer the greatest chances for success, especially if you are dealing with large gaps between your teeth or teeth that never dropped. Otherwise, if you have crooked teeth as a result of a missing tooth that has caused your other teeth to shift, Invisalign might just be the right solution for you.