Why You Should Choose
Hart Orthodontics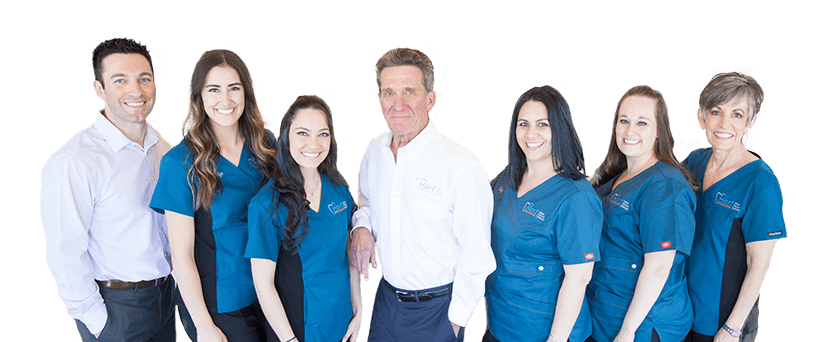 There is nothing warmer or more welcoming than a True Texas Smile... and Dr. Jim Hart and his friendly, patient-oriented staff are here to help turn YOUR special smile into a "smile of a lifetime." We offer exceptional orthodontic care and cutting-edge technology for the community of Cleburne, Texas and the surrounding areas.
Providing Excellence in Orthodontic Care
At Hart Orthodontics, our goal is to be your trusted resource for orthodontic care, providing individualized treatments specially-designed to give you or your child a smile that glows with confidence. Dr. James Hart and our entire team are committed to using the latest techniques and technology so your treatment experience is always fulfilling, empowering, and even a little fun. We like to enjoy ourselves around the office, and we'll make sure you, do too! Whether you or your child needs orthodontic care, you can trust us to provide everything you need in a warm and welcoming atmosphere that makes you feel like you're a part of our family.
Welcoming & Passionate
We go out of our way to make sure our patients feel comfortable from the moment they walk through our doors, and you'll sense that as soon as you see the smiles on our front desk team's faces. We strive to provide completely personalized care in an environment where you always feel acknowledged, informed, and looked after. We just love making Cleburne smiles shine, and we'll put our heart and soul into every visit.
Learn More About Your First Appointment
Honesty & Integrity
We believe the key to high-quality care starts with a trusting relationship between patient and doctor, and in order to have that, you need open and honest communication. We'll make sure you completely understand all of your treatment options before we do anything to your teeth so you can feel fully confident and informed about your care. We'll follow the highest standards of integrity and excellence every step of the way so you'll always have a reason to smile.
Outstanding Achievement & Experience
Dr. Hart has been providing top-tier orthodontic care in the Cleburne area since 1978. Graduating at the top of his class from both Baylor College of Dentistry and an orthodontic residency at the University of Chicago, his commitment to education and continuous personal improvement started early on. After school, his dedication to the best only became more intensified. Dr. Hart has excelled in various professional organizations such as the American Association of Orthodontists, Texas Association of Orthodontists, and notably served as past president of the Oak Cliff Dental Study Club and Cleburne Rotary Club for several years.
State-Of-The-Art Comforts
Our practice makes it a point to have the most up-to-date equipment possible so we can provide you the very best that modern-day orthodontic care has to offer. Our team works diligently to stay on top of the latest advancements so we can continue to improve our patient experience and offer even more precise, efficient, and individualized care. If there is a tool that will make your time with us easier and more fulfilling, you can trust that we already have it in our office.
Learn About Our Advanced Technology
Affordable Excellence
We know that paying for orthodontic care can be an intimidating prospect, which is why Hart Orthodontics is happy to offer our patients multiple ways to save tremendously on their journey to a beautiful, healthy smile. We accept a long list of insurance plans, and we can help you get hassle-free, low-to-no interest financing. With our flexible payment options, we'll ensure that your treatment will always fit easily into your family budget.
Learn More About Financial Options
Amenities For Kids
We see a lot of little smiles come through our doors, so we go the extra mile to ensure their visits are always happy and fun. In our waiting area, you'll find an entire game room just for kids that shows round-the-clock movies and is filled to the brim with games. This will help keep your child occupied and make any nerves they might have quickly melt away. We'll go out of our way to make sure their entire experience is always positive.
---
Our Commitment to You
Our commitment is to provide unsurpassed orthodontic care for children and adults, all in a comfortable and inviting office that feels like home. Not only do we put our energy into producing beautiful smiles, we build relationships that create a sense of family and community.
Dr. James A. Hart earned his undergraduate degree from Austin College and went on to earn his doctorate from Baylor College of Dentistry. He received his postgraduate certificate in orthodontics and a Master of Science from the University of Chicago, Pritzker School of Medicine. He has been providing outstanding orthodontic care since 1978. In order to stay up to date on all the latest advancements in the field of orthodontics, Dr. Hart maintains active memberships with the American Association of Orthodontics, the Southwestern Society of Orthodontics, the Texas Association of Orthodontists and is a Regent of the American Association of Orthodontists Foundation.
| | Dentist | Orthodontist |
| --- | --- | --- |
| 4 year Dental School Program | | |
| 3 additional years of Specialized Orthodontic Education beyond Dental School | | |
| Specialist in straightening teeth and aligning jaws | | |
| Expert knowledge of new and emerging orthodontic treatment technologies | | |
| Addresses problems caused by misalignment (headache, tooth wear, tmj, etc.) | | |
| Orthodontic and orthopedic management of facial growth | | |
| Expert orthodontic treatment for the best possible smile for children and adults | | |
| Offers general dentistry such as check-ups, fillings, fixing cavities and broken teeth | | |
| Diagnoses and treats diseases of teeth and oral tissues | | |
| Oral cancer screenings and extracts teeth if necessary | | |
| Coordinates overall dental health and hygiene | | |