Let's Get Started
Get Ready To Have Fun!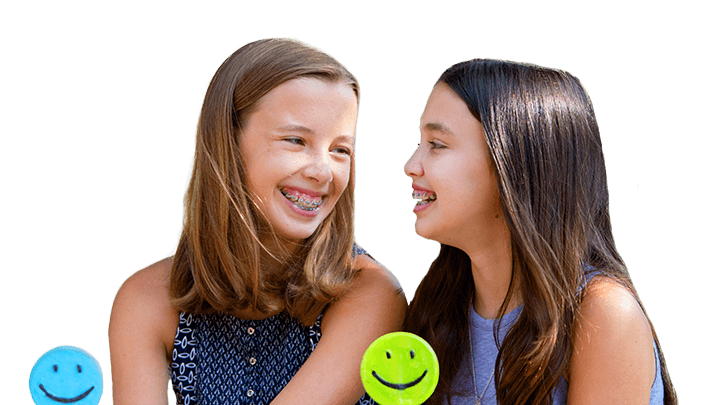 Ready to come have fun as we give you or your child a stunningly straight smile? Great, then welcome to Hart Orthodontics! If you're considering coming to see us for the first time, then we invite you to read through the helpful information below. It will tell you everything you need to know before you begin your orthodontic journey with us. If you have any questions, please give us a call and ask! Be sure to read quickly because we can't wait to meet you!
Your No-Cost Initial Consultation
Hart Orthodontics is happy to offer you a FREE first consultation so you can get to know our practice and learn more about your treatment options. You can schedule this consultation by giving us a call or requesting one through our website (this can be done below). Our friendly team will gather all of your basic information beforehand, and they'll also direct you to OrthoFi.com, a site that will enable you to verify your insurance benefits and choose a flexible payment plan. Right before your consultation, our new patient coordinator will contact you to confirm and will be ready to answer any questions you might have.
When the day of your consultation arrives, our treatment coordinator will:
Introduce you and/or your child to Dr. Hart, every member of the team (the "Sweet Harts"), and take you on a brief tour of the office.
Take digital X-rays and intraoral photos to learn about your situation and determine your treatment options.
Discuss these options with you so you can choose which one you think is best.
Go over all of your financial options, including your insurance and payment plans that are available through OrthoFi.com.
Refreshments will be available for you and all of your family members, so kick back and make yourselves feel at home! Children and siblings love coming to our office because they always have such a great time in our game room!
During this appointment, you'll get plenty of one-on-one time with Dr. Hart, and you'll be invited to ask as many questions as you like. We want you to leave this appointment excited that you're on the road to a new smile!
With this consultation, there are three possible outcomes:
Option 1: We determine that treatment is actually not needed at all.
Option 2: We determine that treatment is not needed at this time, but it will be in the future. This is often the case for children. For this, we will place your child in our Complimentary Recall Program, where they'll be checked periodically to figure out the best time to begin their treatment.
Option 3: Treatment is needed and can be started immediately.
If you, Dr. Hart, and our team agree that treatment can be started quickly, we can actually begin that same day if time allows, or we can schedule you for another appointment soon after. We truly value your time, so we will work with you so that your visits easily fit into your schedule.
Schedule Your Complimentary Consultation
What Happens After Your Initial Consultation
Once your initial consultation is completed and we've confirmed your financial arrangements, we can begin treatment that same day or schedule an appointment in the near future. Either way, starting your treatment will take about 60-90 minutes depending on what you specifically need. If you're using Invisalign, the first step will simply be to take a digital impression that we'll send off to a lab to fabricate your aligners (which you'll pick up later). If you or your child are getting braces, we'll first place them on the teeth, and then we'll adjust them so they are more comfortable. After that, we'll give you a chance to ask any questions you might have.
Learn More About Process of Getting Braces
OrthoFi and Your VIP Payment Options
OrthoFi makes it easier than ever for people to afford their orthodontic care. Instead of offering a rigid payment plan that you could be committed to for years at a time, OrthoFi basically allows you to formulate your own plan. With them, you can determine your own down payment, monthly payments, and the length of term. This gives you the option to extend your payment terms beyond your treatment time, which is an option most plans will not offer. With OrthoFi, you'll be in charge of how much you pay and when so that your care fits easily into your budget.
The overall cost of your orthodontic treatment will vary based on your particular needs and treatment plan. We'll go over the cost of your care before beginning treatment so there are no surprises, and we can also help you put together a payment plan that works with your budget.
To put together your own customized payment plan, visit OrthoFi.com.
Get Ready for Your Big Day
Many people have questions about what they need to do before they begin an orthodontic treatment, and we're happy to answer them! First and foremost, the best way to get answers to anything you're wondering about is to simply call us. We know that a lot about orthodontics is unfamiliar to many people, so we're always happy to take a little extra time to make sure you completely understand your care/finance options. It's also a good idea to go over your insurance policy (if you have one), look over your options at OrthoFi.com, and if you're bringing your child to see us, just let them know that we're going to take great care of their smile.
Learn More About Preparing for Braces
How Orthodontic Treatment Works
All orthodontic treatments work using the same basic principle: a constant, gentle force is applied to the teeth in order to slowly shift them into the proper positions, and in the case of children, also guide the development of the jaws and mouth. The appliances can be made of metal, ceramic, or plastic, and they can be removable or fixed. Today's orthodontic appliances are smaller, more comfortable, and more effective than ones from the past, making them ideal for smiles of all ages. Now, orthodontics isn't just for kids anymore!
Duration of Treatment
Our practice, and Dr. Hart in particular, takes great pride in being able to complete treatments as quickly and efficiently as possible while not sacrificing any quality. Treatment times can vary greatly depending on a patient's particular circumstances, but on average, Phase I treatment typically takes about 6-12 months while Phase II and comprehensive treatments can take anywhere from 12-24 months. Invisalign, on the other hand, can usually complete treatment in about 6-18 months.
One of the biggest factors when it comes to treatment time is patient compliance, which means that what you do during your treatment really matters! Basically, the more closely you follow our instructions, take care of your teeth, and come in for regular checkups, the faster your treatment will go. Dr. Hart will be able to give you a general estimate of how long you can expect your treatment to last at your initial consultation.
Scheduling Follow-Up Appointments
At Hart Orthodontics, we'll always treat your time like it's our own, and we'll work to make the most out of every visit to our office. After beginning your treatment, we'll ask to see you once every 6-8 weeks to check on your progress. That way, if an issue comes up, we can quickly address it so it doesn't throw off your treatment time. This interval will shorten as we get to the end of your treatment as we are detailing and finishing your smile.
At each follow-up appointment, we will schedule your next one, but we understand how life can often get in the way of your schedule. If you need to reschedule an appointment, please let us know as soon as you do so we can accommodate you. It's important that you see us regularly to make sure your treatment stays on track.
Life with Braces
Home Care Instructions
Taking care of your braces at home will ensure that both your teeth and your appliance stay in good shape all throughout your treatment. While it may take a little time to adjust to having braces, pretty soon, you likely won't even notice them! One of the main things to keep in mind is that you will need to take a little more time brushing and flossing your teeth. We'll give you special flossers to make this easier, and we'll show you how to brush so you can keep your teeth nice and healthy.
Foods to AVOID with braces:
Chewy Foods: Candies like licorice, caramels, and starchy items like bagels.
Crunchy Foods: Caramel Popcorn, chips, and ice.
Sticky Foods: Caramel candies, chewing gum (unless it is sugarless).
Hard Foods: Nuts, hard candies (Jolly Ranchers, Jawbreakers, etc.), French bread, and ice.
Foods that require biting into: Corn on the cob, whole apples, carrots (these can actually break brackets).
Soft Drinks: Their high sugar and acid content can lead to tooth decay.
Foods you CAN eat with braces:
Soft Breads: Tortillas, muffins without nuts, soft rolls.
Melty Treats: Ice cream without nuts, soft cookies, brownies.
Snacks: Plain popcorn, cheese puffs, diced fruit.
HOW to eat certain foods with braces:
Apples: Cut them into small wedges.
Carrots: Cut them into small pieces.
Meats: Cut into very small bites (no larger than the end of your finger).
Common Orthodontic Emergencies
Here are a few tips on how to handle some of the most common orthodontic emergencies before you're able to make it to our office:
Soreness Caused from Braces and Appliances
It is very normal for the teeth and gums to feel a little sore after an appliance has just been put on or adjusted. That means it is working! This should go away after a few days, but to help with any pain, you can take an OTC medicine like Tylenol or Advil or swish your mouth with warm water. An appliance may also cause irritation to your lips and gums as they adjust, and we can give you some dental wax or silicone to smooth over particularly rough areas. Your mouth should eventually "toughen up" after a couple of weeks. However, if the soreness doesn't go away after 7 days or so, be sure to give us a call.
Loose Teeth
In order for braces to move the teeth, they first need to become a bit loose, so if you feel some extra movement in your teeth, don't worry! They will firm up after they have been moved to the correct positions.
Pain in the Teeth and Gums
It's very common for the teeth and gums to feel a bit tender after having braces put on, adjusted, or switching to a new clear aligner. This should be very slight and go away after just a few days. If it doesn't, be sure to give us a call.
Broken Bracket
If the bracket has become unattached from the tooth and is still attached to the wire, simply contact us so that we can remove it from the wire and make arrangements to re-bond it. If it has come off of the wire, save the bracket in a small zip-loc bag so that you can bring it to your next appointment and contact our office to make arrangements to have it rebounded.
Poking Wire
Metal wires can sometimes cause irritation of the gums and lips. We can provide you with some dental wax to place over the wire to make the surface smoother and more comfortable, but if this doesn't help, we can actually snip or bend the wire with a quick appointment. It is quite normal for wires to shift as the teeth begin to unravel, this may cause one side of the wire to feel too long on one side and is something we can remedy for you very quickly. Please contact us so that we can schedule you to have that corrected.
Object Caught in an Orthodontic Appliance
First, try to see if you can remove it as gently as possible. Being too rough could damage your appliance and affect your treatment. If you can't seem to get it unstuck, just give us a call and we'll be able to help you right away.