Traditional Orthodontic Braces – Cleburne, TX
The Most Established Solution for Complex Issues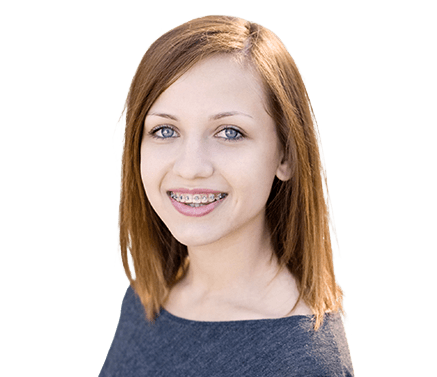 Traditional braces have been used for decades not just because they can straighten teeth. They're also designed to fix uneven bites and help you maintain the best oral health possible. Misaligned or rotated teeth can easily cause health problems later in life, which is why it's always better to opt for treatment.
Our Cleburne office is fully equipped to provide you traditional orthodontic services like braces, so please feel free to contact us to speak with Dr. Hart today. He'll be happy to evaluate your case and determine the next best steps.
Why Do I Need to Straighten My Teeth?
Removing unsightly gaps as well as misaligned and crowded teeth is the clearest benefit after completing orthodontic treatment via traditional braces. But many people don't realize how straighter teeth make a big difference on your oral health as well.
For one, misaligned bites result in uneven pressure on specific teeth. This pressure can easily increase your risk of cracking, breaking or simply wearing down your tooth enamel prematurely. Not only does this increase your risk of a dental emergency, but tooth enamel is permanently lost as a result.
Additionally, misaligned teeth can put stress on the joints connecting your jaw to your skull, known as the temporomandibular joints. This improper pressure can lead to chronic jaw pain and impede jaw movement.
With straight teeth, you have fewer gaps for food debris and plaque to collect on. That means removing these materials and preventing common dental disease through daily oral hygiene is far easier.
How Do Traditional Braces Work?
Traditional braces are made up of a series of metal brackets, wires and bands designed to slowly shift teeth into a more ideal alignment. This process can take anywhere from 12 to 24 months to complete, depending on the complexity of your issue.
The square brackets are bonded to the surface of teeth, allowing for an archwire to be threaded through each bracket. As Dr. Hart tightens each bracket during your routine visits, it applies gentle pressure to the top of the tooth, then works its way down to the root. This pressure is what shifts the position of the entire tooth, not just the visible crowns.
Are Traditional Braces Right for Me?
If you have any of the following orthodontic concerns, chances are likely they you are eligible for traditional braces from Dr. Hart. These issues include:
A severely misaligned bite that other forms of treatment cannot fix
TMJ treatment for advanced jaw dysfunction that makes basic tasks difficult (eating, chewing, speaking, smiling etc.)
Bite realignment, both for teens and adults
If traditional braces sound right for you, feel free to contact our office to speak with Dr. Hart today! You can also schedule an appointment directly through our website.
Traditional Braces FAQs
At Hart Orthodontics, we want your experience to be nothing but the best. When preparing to wear braces, we know you probably have a lot of questions, which is why we aim to provide trustworthy, honest, and transparent information to ensure you feel confident about your decision to move forward with traditional orthodontics. Below you will find a list of FAQs we've compiled from our patients. Should you have any additional questions, please don't hesitate to contact our office.
What problems can braces fix?
Traditional braces are one of the most versatile orthodontic solutions. They have been around for years and are a tried and true method of treatment. They are capable of fixing issues of overcrowding, spaces between teeth, impacted or crooked teeth, and even severe bite alignment problems such as an overbite, underbite, crossbite, and an open bite.
Will it be painful to wear braces?
Not everyone experiences the same level of discomfort while wearing braces. While it is true you will likely feel some soreness after your regular dental appointments because of the need to tighten our wire, there are ways to minimize the discomfort. Whether it is with an over-the-counter pain reliever, cold compress, or cold beverages and food (i.e. smoothies), these can help reduce the pain and have you feeling better in a matter of days.
What foods should I avoid with braces?
It is best if you try to avoid any foods that are hard and sticky, such as popcorn, ice, candy, or nuts. A forceful bite, especially on the front teeth can apply too much pressure to your brackets, causing them to accidentally come off or break. This can happen if you eat corn on the cob, hard breads, or raw vegetables. It is best if you cut them into small pieces to make it easier to chew with your back teeth.
Will I need to wear a retainer when I'm finished with braces?
Yes, it will be necessary for you to wear a retainer once you are finished with your braces. Why? Because your teeth can quickly shift back into their original position. By having a retainer, you can keep from undoing your progress and keep your smile in its appropriate place. Your orthodontist will determine which type of orthodontic retainer will be right for you.
Can I expect my dental insurance to cover the cost of my braces?
It is possible for your dental insurance to cover a portion of your orthodontic treatment; however, this can vary based on your state and individual policy. If they are being used to improve your oral health, it is often deemed a medical necessity, but if they are requested for cosmetic reasons, there is a chance your insurance will not cover the cost. If you are uninsured and in need of braces, you can take advantage of available financing through CareCredit, which offers low and no interest payment plans to help you stay within your budget.
At Hart Orthodontics, we also offer OrthoFi, which is a payment option that allows you to choose your own down payment, monthly payments, and the length of your plan.
Am I too old for braces?
While braces may typically be associated with the teenage years, there is no upper age limit for getting braces. You deserve to achieve the happy, healthy, and beautiful smile you deserve no matter what age you are! That being said, while you can't be too old for braces, your treatment may take a bit longer than that of a teenager since your teeth are more set in place. You'll also need to be in good oral health (ie have a healthy jawbone and no gum disease or cavities) before you can begin treatment with braces, which can be more common with age. However, we can likely treat any problems that stand between you and your journey towards a straighter smile.
Can I get braces on just my top or bottom teeth?
While it may seem convenient and cost-effective to get braces on just your upper or lower teeth instead of both, it's almost never recommended. This is because braces are designed to bring all of your teeth into alignment. If you shift one arch but not the other, it's likely to cause far more harm than good. Having braces on one arch of teeth will not bring them together like they should, and can actually make bite problems like underbite far worse and more pronounced. We'll recommend a single-arch braces treatment if it's the best option for you, but the overwhelming majority of patients benefit from having braces on both arches of teeth.
How long do braces take?
In general, a braces treatment will take between one and three years. The exact length of time you can expect to take to finish your treatment will depend on a variety of factors, like:
Your age: Treatment typically takes longer for older patients.
Your oral health: If you need to treat gum disease or cavities beforehand, this will naturally add to the length of your treatment timeline.
The severity of your issues: The more your teeth need to be adjusted in order to guide them into their proper positions, the longer your treatment will take.
Compliance with your treatment plan: If you break your braces frequently or don't wear any necessary attachments we've prescribed (like rubber bands), then your treatment will get off track, inevitably increasing the length and cost of your treatment.
Can I drink coffee with braces?
Yes, you can drink coffee with braces. That being said, it's important to keep in mind that coffee is notorious for staining teeth. This can be especially true when wearing braces, since the wires and brackets can make it harder to thoroughly remove the staining particles regularly. Another thing to keep in mind is that the enamel directly under your brackets will not be stained by coffee, so you may find yourself with unevenly colored teeth by the end of your treatment! When drinking coffee with braces, consider drinking through a straw to minimize contact with your teeth. You should also drink plenty of water while enjoying your coffee and right afterwards to wash away those dark-colored particles!