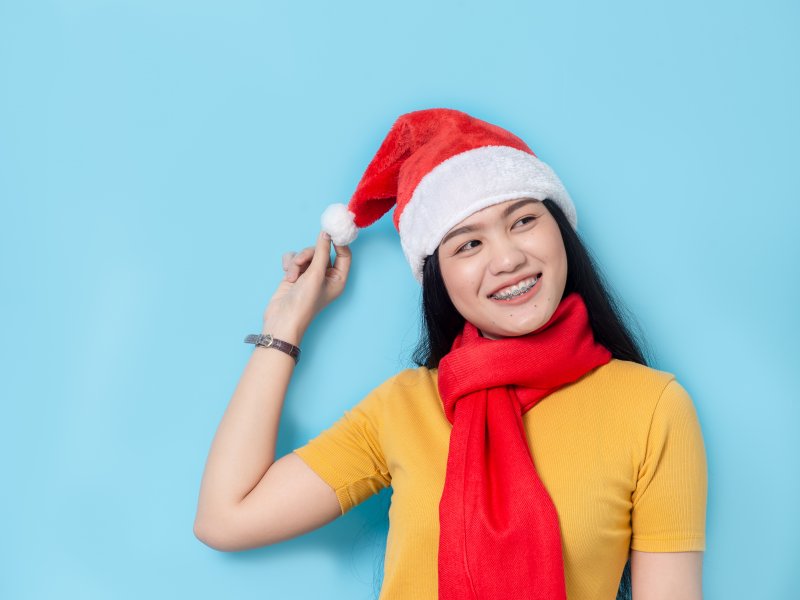 There are plenty of tempting treats to enjoy during the holiday season, but if you're wearing braces, you'll need to be careful so that the festivities are interrupted by an orthodontic emergency. Your dentist in Cleburne has 6 tips that will help you look after your braces throughout the holidays; keep them in mind if you want to stay on track towards creating a straighter smile.
1. Stay Away from Sticky or Crunchy Snacks
Biting down on something crunchy could damage your braces, and sticky foods might inadvertently pull your brackets off your teeth. Try to stay away from certain treats that have a lot of potential to cause orthodontic damage, including:
Candy canes
Taffy
Peanut brittle
Sticky brownies
Crunchy cookies
Popcorn
2. Try Not to Bite Down on Anything Hard
You should steer clear of all nuts and seeds while wearing braces; also, try to avoid eating any kind of meat directly on the bone. Hard foods and objects carry too much potential to break your braces. For this reason, don't use your teeth to open any packages. Find some scissors or another appropriate tool to do the job for your instead.
3. Look for Softer Foods to Enjoy
It may sound like there are a lot of limitations on what you can eat with braces, but in fact there's plenty of foods served during the holidays that are still safe to eat. Feel free to enjoy a slice of pumpkin pie, a bowl of pudding, dinner rolls, mashed potatoes, and turkey or ham that has been taken off the bone.
4. Eat Slowly and Carefully
A good way to keep your braces safe during any meal is to cut your food into bite-sized pieces before chewing them slowly and carefully. Not only does this minimize the risk of breaking your brackets and wires, but it also aids with digestion and lowers the chance you might choke.
5. Brush Thoroughly, Brush Often
Food can get caught in your braces – including treats filled with sugar that can put you at risk for cavities. To protect your pearly whites from decay, brush your teeth thoroughly, ideally after every meal. It's a good idea to take your toothbrush with you whenever you know you'll be away from home for an extended period of time.
6. Keep Your Orthodontic Appointments
It can be easy to let a few things slip through the cracks during the hectic holiday season; don't let your orthodontic appointments be one of them. Periodic adjustments and examinations are important for making sure your treatment is still on track.
Remember: even if you're taking the right precautions to protect your smile, you should always make sure that you always have a good answer to the question, "Where's a good dentist near me?" Be proactive if you want your braces to survive the holidays!
About the Author
Dr. James A. Hart has been practicing orthodontics since 1978. At his practice, Hart Orthodontics, his focus is always on the health and wellbeing of his patients, which means staying up to date on the latest advancements so that he can always provide the best treatment. To schedule an appointment, visit our website or call (817) 645-2432.