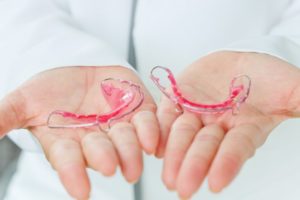 Teeth are like elephants in that they never forget. Once you finish with braces, no matter the type, you'll need something to keep your teeth from moving back into their original position. You certainly don't want to have spent all that money for nothing, right? This is when a retainer becomes extremely important. This small oral device is crucial to ensuring your new smile stays in place, but what happens if you accidentally break or lose it? Let an orthodontist in Cleburne explain.
What is the Purpose of a Retainer?
For months or even years, your teeth have felt the pressure to move and find their new position. Whether it was crooked or overcrowded teeth, gaps between your teeth, or a bite alignment problem, braces served a valuable purpose – making your smile more aesthetically pleasing and healthy. But once they came off, it was time to find a solution to keep your pearly whites from slowly regressing back into their former position.
If your teeth are still looking their best years after you finished with braces, you have a retainer to thank because of its minimal amount of pressure in keeping your teeth in place. Considered a long-term treatment, these oral devices can be removable or permanent.
What Should I Do if My Retainer Breaks or is Lost?
How many times have you gone to a restaurant and forgotten your retainer case? Because of this, you place your retainer in a napkin and fold it up. After you've left the restaurant and go to put it back in your mouth, you realize you left it in the napkin. If this solution sounds familiar, or you accidentally broke your retainer, it's important that you contact your orthodontist as soon as possible.
Why?
Depending on how far along you are into the process of wearing a retainer, your teeth can still begin to shift quickly. You should never wait until your next appointment to tell them about an accidental breakage or lost retainer, as it can be too late.
What Are Retainers for Life?
Once you complete your orthodontic treatment, you can talk to your orthodontist about a program called Retainers for Life. Paying a reasonable fee, you will receive a model of your teeth, which is used to create the retainer set we will provide to you during your appointment.
You will be responsible for keeping your model in a safe place should your retainer break or become lost, as this is what your orthodontist will use to create a new one and replace it.
Remember, if you received your braces by a previous orthodontist, you will need to notify your current dental professional as soon as possible should an accident occur with your retainer. They will need to create a new model of your teeth quickly so that your new smile does not begin to shift back into its original position.
About the Author
Dr. James Hart earned his bachelor's degree in Chemistry from Austin College before graduating in the Top 10% of his class at Baylor College of Dentistry, achieving his Doctor of Dental Surgery degree. He also completed a master's degree and finished his orthodontic residency at the University of Chicago Pritzker School of Medicine. Dr. Hart has provided high-quality orthodontic care since 1978, and he works to stay up to date on the latest advancements in the field of orthodontics. Whether you just finished with Invisalign or traditional braces, Dr. Hart can fit you for a retainer to keep your teeth from shifting back into their original position. To learn more or to find an "orthodontist near me," contact us via our website or by calling (817) 645-2432.