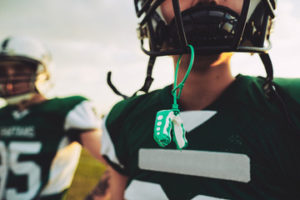 You make sure your child wears their seat belt during every car trip and their helmet every bike ride, but are they wearing a mouthguard when they play sports? While your child may not want to wear it now, they'll thank you later. Mouthguards are one of the least expensive types of sports gear but can save you thousands of dollars — and prevent your child from getting hurt. In this post, your orthodontist in Cleburne explains the ins and outs of mouthguards.
What Can Mouthguards Prevent?
Your child is at risk of more than a chipped tooth when they don't wear a mouthguard. Athletes who don't wear mouthguards are 60 times more likely to damage their teeth, often causing permanent damage to oral structures. When your child has all of their permanent teeth, damaging or knocking out a tooth can require even more serious medical intervention. Mouthguards also protect your child's jawbone and can prevent concussions.
Which Type of Mouthguard is Best?
There are three types of mouthguards: ready-made, mouth-formed and custom. Ready-made are bought over the counter and act as a 'one-size-fits-all' guard, which runs the risk of not properly fitting your child's mouth. Mouth-formed guards are also bought over the counter and require the 'boil and bite' method to be shaped. This includes placing to guard in boiling water and then having your child bite down on it to mold the plastic to their teeth. Custom mouthguards are created by your dentist and provide optimal protection.
Your dentist in Cleburne will make your child's custom mouthguard by taking an impression of their teeth. The result is an extremely durable and close-fitting mouthguard that reduces pressure on the jaw. It cannot be chewed through like other types of mouthguards and provides better oxygen flow. This is also the preferred option for players with braces.
Want Free and Discounted Mouthguards?
Any middle- or high-school student in Cleburne ISD who plays a school-sanctioned sport is able to receive a free Shock Doctor mouthguard from our office. This popular type of sportsguard offers basic protection for young athletes, including those who wear braces or other oral appliances.
For an even greater degree of protection, we will design a custom mouthguard for your student for only $59. As an added bonus, it will come in the school's colors and have the school's logo and the student's last name on them.
As you schedule carpools to practice and get ready for game day, you shouldn't have to worry about your athlete's dental safety. Mouthguards offer years of heavy-duty protection to even the most intensive players. Talk to your dentist today about ensuring your child's well being during games.
About the Author
Dr. James Hart has over 40 years of experience providing expert orthodontic care. He treats all of his patients as if they were a part of his family and strives to keep their smiles happy and healthy. If you have further questions about mouthguards, he can be reached through his website or at 817-645-2432.