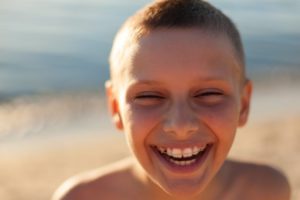 Do you have a little one at home with crooked teeth? Misaligned teeth can not only affect their appearance, but it can have an impact on their oral health and even influence the way that they speak. Thankfully, braces can help prevent problems like decay, gum disease, and more. Needless to say, orthodontics are important, but when is the most convenient time for your son or daughter to receive braces? Keep reading to learn why the answer is summer from an expert orthodontist.
Free Time
Primarily, summer is the best time for your kids to receive braces because school is out! This means free days and less extracurricular activities, which leads to less interference for orthodontic appointments. The first appointments are not only more frequent, but they can also take longer, which can get in the way of their valuable education during the school year.
Adjustment Period
Summer is not only the best for their schedule, but it will give your child a chance to adjust to their braces before school starts. While modern day technology has minimized orthodontic discomfort dramatically, any slight pain that your son or daughter faces will happen before school starts. Additionally, besides getting used to the braces physically, the summer will give your little one some time to adjust to their new appearance. Middle school can be awkward for many kids, which makes summer a valuable time for them to get used to the way that brackets and wires look on their teeth.
Summer Growth Spurts
Studies have shown that kids are more likely to go through growth spurts during the long and warm days of the summer. However, scientists are still researching why this is the case. Most kids will grow during short periods and then lag. Orthodontists like providing braces during growth spurts because it's not only easier to shift teeth during growth, but it will ensure that your son or daughter's teeth shifts to the desired position—increasing the chances of permanently straight teeth.
While it doesn't always work out that your child needs braces in the summer, the American Association of Orthodontists recommend that they should have an orthodontic evaluation after the age of 7. Unlike other health conditions that can get better with time, misalignment can only lead to worse problems if treatment is prolonged.
Are you ready to give your loved one the gift of an aligned smile? Now is the best time! Contact your orthodontist in Cleburne to take your first step towards beautifully straight teeth for your child.
Meet the Orthodontist
Dr. James Hart is a board-certified orthodontist with decades of experience. He takes pride in creating lasting relationships with his patients, which leads to more quality care overall. He currently practices at Hart Orthodontics, and he can be contacted through his website or by phone at (817) 645-2432 for any questions.