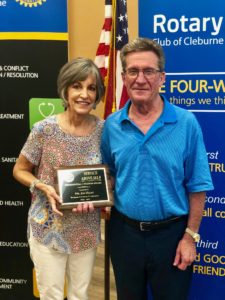 At Hart Orthodontics, we love helping people of all ages achieve healthy smiles, and we're honored that so many of our patients think of us as the best orthodontist in Cleburne! But we're just as proud that Dr. Hart is not only regarded as a great orthodontist, but also a great person overall. In fact, the Cleburne Rotary Club recently chose Dr. Hart for their Service Above Self Award to recognize his volunteer work, both locally and in other countries. Keep reading below to learn more about it!
What Is the Rotary's Service Above Self Award?
The Rotary Club is an international service organization that brings together businesses and professionals to provide humanitarian service to people all over the world. The Service Above Self Award is one of the highest honors they can bestow and recognizes individuals for outstanding service and volunteer work.
Below are some of the types of service Dr. Hart has been active in over the years. Throughout that time, he's been so thankful for the help and support he's received from his wife, staff, friends, and fellow Rotary members.
Mission Trips To the Dominican Republic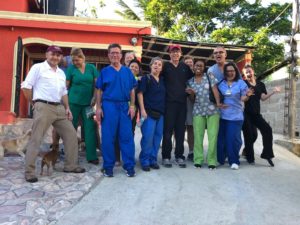 Traveling at their own expense every year, he and his wife Christy join a team of volunteers in a very poor area of the Dominican Republic to provide dental care to communities that wouldn't otherwise have it. They've helped countless people get the care they desperately need to have a basic level of good oral health. Dr. Hart is also involved in plans to develop a permanent dental clinic in the area.
Providing Compassionate Dental Care To the Cleburne Community
At Hart Orthodontics, we truly want everyone to have a smile they can feel good about, so we strive to make high-quality dental care available to as many people as possible. With 40 years of service under our belt, we're so happy to read the great things our patients have said in their reviews:
"This dental office is by far the absolute best I've been to. The Dr. and staff are very professional and have the utmost respect for their patients. They make sure the patients are taken care of and are as comfortable as can be. One of the friendliest staffs I've ever encountered. I highly recommend this place!!!"
"Our family absolutely loves Dr. Hart and the entire staff! They are so sweet and welcoming every time we go."
"Hart Orthodontics is a fantastic establishment that makes you feel like family from the moment you walk through the door. Not just Dr. Hart and his wife but every employee is professional and caring. I would definitely recommend them to anyone who's looking for orthodontic work."
Local Volunteer Efforts
First and foremost, we're dedicated to providing great dental care and feel incredibly proud to be thought of as one of the best dentists in Cleburne. But at the end of the day, we want to serve the community in other ways as well. In addition to the Rotary Club, we're active in all of the following local organizations:
Children's Advocacy Center of Johnson County
Texas Health Harris Methodist Hospital In Cleburne
The Boy Scouts of America
Cleburne Independent School District
The Cleburne Education Foundation
Chisholm Trail 100 Club
Lastly, we want to say thanks to the Rotary Club and all our patients who we've had the pleasure of working with over the years. We love our community and look forward to serving it for many years!
About Hart Orthodontics
At Hart Orthodontics, we've been helping our patients achieve great oral health for four decades and counting, and we're always looking for ways to give back to the Cleburne community in any way we can. If you're interested in orthodontic treatment or have any questions, you can contact us via our website.