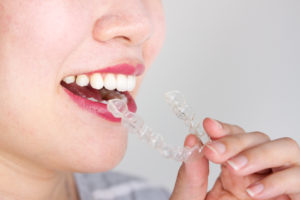 Have you been struggling with bite issues? Do you desire to feel confident about the appearance of your smile? If so, then you don't have to settle for the traditional route of metal braces. As you read on, your local orthodontist explains how Invisalign in Cleburne treats misaligned, crowded and gapped teeth. Also, you'll discover what you'll need to do to ensure the best results.
What is Invisalign?
The Invisalign method is an aesthetically-pleasing way of correcting your bite issues. Using clear, plastic trays that are custom-designed by your orthodontist, your teeth will be gently corrected by wearing each set of trays for two weeks and then discarding them for the next pair in the sequence. This pattern continues until the last set of trays are worn.
Your orthodontist reminds you, though, that to get the most out of your Invisalign treatment, there are a few guidelines that need to be followed.
In the First 48
You'll need to wear your Invisalign trays for the first 48 hours after you're fitted with them. This is crucial for setting the proper pace for the rest of your treatment process.
Initial Adjustments
Like any other method for correcting bite issues, there could be some initial discomfort as your teeth adjust to the added pressure. Thankfully, this phase doesn't last long, but here's what to do to get some relief:
Initially, you can eat soft foods to lessen the effects of any sensitivity.
You can take an over-the-counter pain reliever like ibuprofen to get some relief if needed.
A final way to relieve discomfort is to apply a cold compress to your face.
22 Hours a Day
That's how long you'll need to wear your trays. Your entire treatment schedule is pre-designed by your orthodontist to deliver the best results in the most efficient and timely manner. When you wear your trays for at least 22 hours each day, you won't risk losing any of your results.
Excellent Oral Hygiene
One of the great advantages the Invisalign method has over traditional braces is that it allows you to brush and floss your teeth just as you normally would. Also important in maintaining your oral health is keeping your trays clean. You can use products like Retainer Brite, Fresh Guard or others to soak them in.
Visit Your Dentist
It's just as important to visit your dentist for semi-annual cleanings and examinations when wearing Invisalign as any other time. As you correct your bite woes, you want to make sure your teeth are just as healthy as they are attractive.
You now have a way to get the smile of your dreams without compromising your dignity. To learn more about the Invisalign method, contact your orthodontist in Cleburne to schedule a consultation.
About the Author
Dr. James A. Hart earned his Doctor of Dental Surgery degree from the Baylor College of Dentistry. He then went on to complete an Orthodontic Residency at the University of Chicago Pritzker School of Medicine. Dr. Hart helps patients enjoy beautiful smiles with Invisalign at Hart Orthodontics and can be reached for more information through his website.