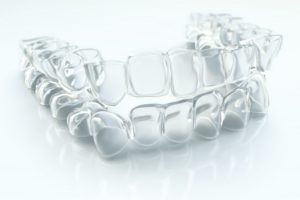 Invisalign in Cleburne has a reputation for being a discreet and effective way to straighten teeth. Indeed, it is a remarkable treatment. However, did you know that there are alternatives to Invisalign that might be even better? At Hart Orthodontics, we are proud to offer several clear braces options, including ClearCorrect, Invisalign, and our own In-House Aligners. Let's take a moment to compare our in-house treatment with the more commercial brands. We think you'll be surprised by what you learn!
Effectiveness
Both Invisalign and our In-House Aligners operate on the same principle: they apply gentle pressure to teeth to reposition them over time. As you graduate from one aligner in the series to the next, your teeth get closer and closer to their ideal places. Essentially, there is no difference in the effectiveness of the treatment between commercial brands and the aligner trays that we make right here in our office.
Quality
Choosing our In-House Aligners doesn't mean that you're sacrificing quality. Dr. Hart has many years of experience in orthodontics, and he has an intimate knowledge of how the teeth and surrounding structures work. He also employs cutting-edge technology, such as the iTero Scanner, an EnvisionTEC 3D printer, and advanced software to design and fabricate the aligner trays. The methodology he uses may even make our In-House Aligners stronger than Invisalign or ClearCorrect trays.
Cost
Shipping costs and middle-man fees can drive up the cost of Invisalign and other big brands. Because our aligners are made in-house, we can control costs and pass the savings onto you. When you visit us for your consultation, we'll crunch the numbers with you so you can get a realistic estimate of the cost of each of your orthodontic treatment options.
Time
We respect your time, which is why we always work to provide our patients with their aligners as quickly as we can. Whether you're waiting for your initial trays, or you need one to replace an aligner that you lost or accidentally damaged, you can expect a fast turnaround time. This is in contrast to big brands, which may take longer to process requests and ship them back to our office. Also, if your treatment plan requires an adjustment at any time throughout the process, we'll take care of it right away so your path to a straighter smile proceeds as smoothly as possible.
Personal Attention
Since Dr. Hart and our team know you and treasure you as an individual, we'll take extra care to provide you with high-quality aligners that are both comfortable and discreet. To a big brand like Invisalign, you may be nothing more than a set of teeth.
Are you ready to discover whether our completely customizable In-House Aligners can help you achieve a straighter smile? We look forward to discussing this amazing treatment with you!
About the Author
Dr. James Hart is an orthodontist in Cleburne who has been in practice since 1978. Over the decades, he has always sought to provide patients with up-to-date care in a comfortable environment. To learn more about Dr. Hart and the In-House Aligners he can provide, contact our office at 817-645-2432.